SEPTEMBER 13, 2020
the DENIM edition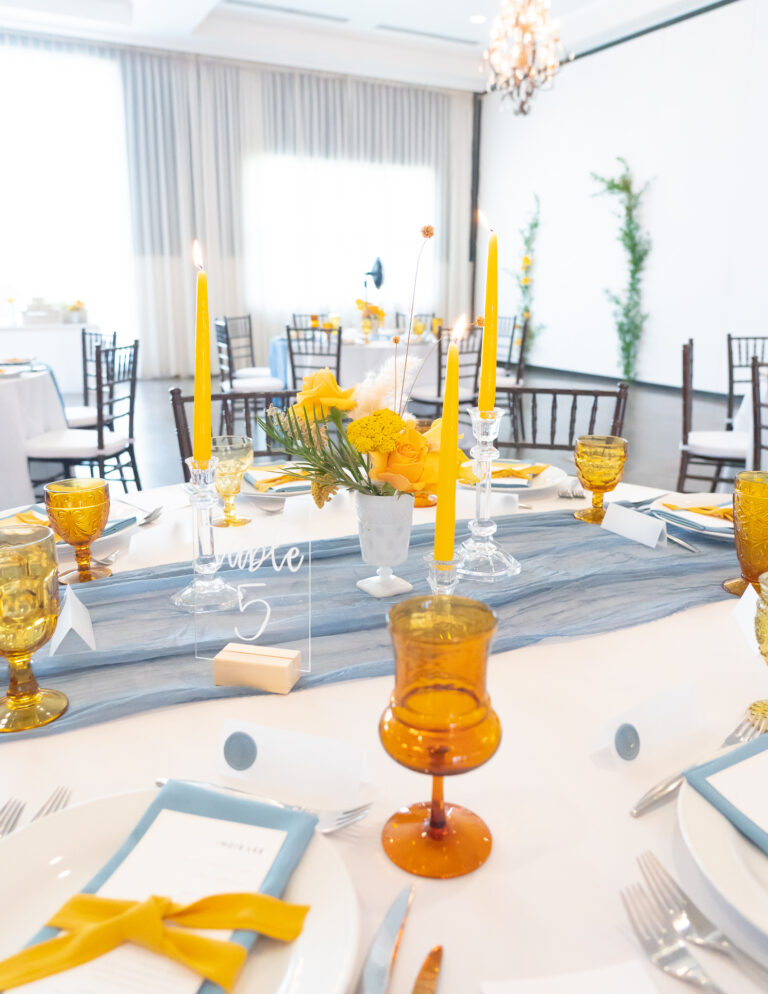 We are excited to share all the details for The Denim Edition with you. We hosted the event at the iconic Hotel Ella on September 13, 2019. 
Hotel Ella is a stylish boutique hotel housed in the historic Goodall Wooten House, one of Austin's original landmark estates. Hotel Ella's beautifully designed event space was the perfect backdrop for our Denim Soiree.
"Denim Is A Love That Never Fades"
We chose dusty blues with accents of marigold yellows. It was the perfect transition into fall with dusty hues and warm yellows. Seeing all our beautiful guests dressed in denim made for a festive and glam evening! It was fabulous!
The space held six round tables decorated with dusty blue table runners, crystal candle holders and marigold candles, beautiful floral arrangements, custom marigold chiffon sewed ribbon that perfectly matched the vintage glassware, delicate vellum place cards with a stamped wax seal, and our Glam Soiree personalized intention cards that each of our guests receive and fill out. Each area of the event showcased something special – from a seating and name tag area, to a table highlighting local vendors' beautiful products, special seating vignettes, photo booth area, and a beautiful dessert table. 
We'd like to give a special thank you to our vendor sponsors. The talented, Gypsy Floral, created the beautiful flower arrangements and backdrop, Booths and Things donated the photo booth, and each of our lovely guests took home a gift from Indie Lee of clean beauty cleanser and toner.
Thank you to all the lovely souls in attendance. You are all so special and we are extremely grateful for each one of you! Keep shining your beautiful light on the world.