FEBRUARY 8, 2019
the GALENTINE'S edition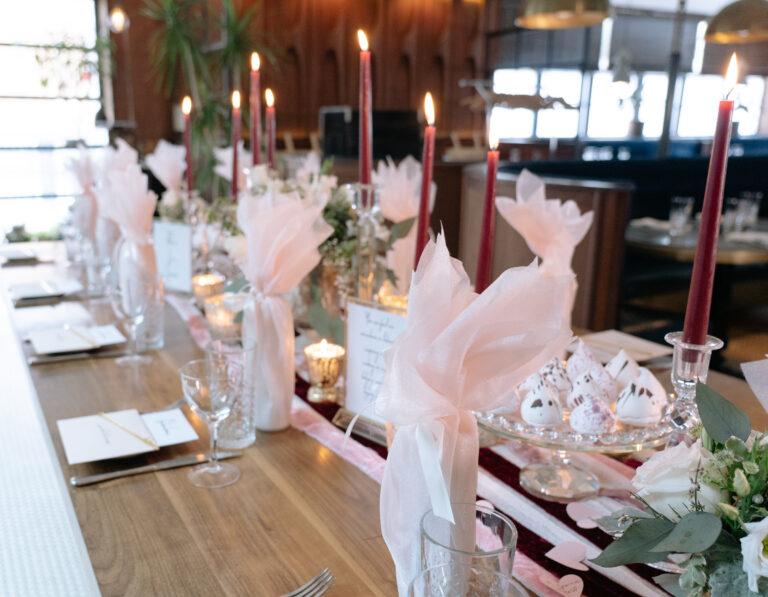 We are super excited to share with you all the details from our 2nd Glam Soiree, Galentine's. We hosted the event at Eberly in Austin on February 8th, 2019.
February is LOVE Month, so naturally the theme was Galentines. If you are not familiar with Galentine's Day, it is a day similar to Valentine's Day, but instead you celebrate the amazing women in your life. We couldn't think of a better way to celebrate than to throw them a Glam Soiree.
The color theme for the soiree were shades, blush, mauves and bordeaux. The table was elegantly decorated with the different shades of ribbon running along the center, crystal taper candles, beautiful flowers, and crystal cake stands. 
All of our guests looked absolutely stunning in blush. The collection of beautiful women in blush was a real show stopper. As the hosts, we chose to wear monochromatic bordeaux. We would like to add one more little, but very important, note. Not only are these women incredibly beautiful on the outside they are each just as, if not more, beautiful on the inside. We feel so very blessed to call them our friends. We could not be more lucky to be surrounded by these beautiful souls. They truly humble and inspire us.
We would like to give a special thank you to our beautiful and generous sponsor Ashlina Kaposta. Ashlina is the creator of the amazing blog The Decorista, and Blissfull Living Co. She gifted everyone a beautiful Ritual Candle. We are so grateful for your love, support and generosity Ashlina. 
We were so amazed and excited that our second Glam Soiree doubled in size from the first! It was such a proud moment for us to see our dream of bringing women together to empower and support each other come to life. Dolls, our heart and souls are overflowing with gratitude.